Shoulder Procedures & Conditions
Houston, TX
Treating shoulder injuries is a complex process that requires cutting-edge technology and surgical expertise. At INOV8 Orthopedics in Houston, we have a state-of-the-art facility and an experienced surgical team that can provide the highest quality of care for your shoulder ailments.
Our services include shoulder replacement procedures, rotator cuff repairs, treatment of labral tears, and treatment of overuse conditions. We will implement non-invasive physical therapy as an alternative to surgical intervention when appropriate.
Total Shoulder Replacement (Total Shoulder Arthroplasty)
Your shoulder joints can get worn down as a result of the aging process. They can also become damaged due to overuse. This damage can ultimately require the damaged joint to be removed and replaced.

During a total shoulder arthroplasty, our shoulder surgeons use computer-assisted joint replacement technology. We will remove damaged portions of the shoulder joint and replace them with custom-made artificial implants. This procedure is designed to reduce pain and restore mobility.
Shoulder Arthroscopy
Thanks to modern technology, our shoulder surgeons can correct a variety of conditions with non-invasive procedures. Shoulder arthroscopy involves making small incisions into the shoulder. One such incision will be used to insert a camera into your shoulder joint. Our team can identify the source of your shoulder pain and provide a higher quality of care.
Rotator Cuff Repair
The rotator cuff is a vital tendon that is located in your shoulder. When this tendon is torn, you may require rotator cuff repair to regain normal function in the joint. In the past, this procedure could only be performed with a large open incision.

However, our team can often perform this procedure arthroscopically. This is just one of the ways that we are providing our patients with the best orthopedic care possible.
ORIF (Fracture Repair)
ORIF (open reduction and internal fixation) is a procedure that is used to repair a serious fracture. During this procedure, our team will make an incision to expose the damaged joint. They will then piece the bone back together and hold it in place with plates, screws, rods, and other hardware.
Shoulder Dislocation
Generally, shoulder dislocations do not require surgical intervention. Typically, the shoulder will heal on its own with rehabilitation. However, it must first be returned to its natural location.
In rare cases, a shoulder dislocation will result in other damage, such as tears to the soft tissue in the shoulder joint. When this happens, our shoulder surgeons will need to surgically repair the damaged tissue to alleviate pain and restore mobility.
SLAP Tear Repair
SLAP stands for superior labrum anterior posterior. A SLAP tear refers to a tissue tear that occurs on the top of the shoulder joint. This type of tear must be repaired to achieve a full range of motion and reduce pain. Our team performs almost every SLAP tear repair with arthroscopy because doing so provides the best patient outcomes.
Shoulder Labral Tear
The labrum of your shoulder is a thick layer of tissue that is responsible for keeping the shoulder socket attached to the ball of the joint. The labrum can tear in several places, including the top (SLAP tear). Regardless of the location of the tear, it can cause pain, inflammation, and a reduced range of motion. Fortunately, labral tears can generally be repaired arthroscopically.
Arthritis of the Shoulder
Arthritis simply refers to chronic inflammation. While there are hundreds of types of arthritis, osteoarthritis is one of the most common types found in the shoulder and other major joints. Mild arthritis of the shoulder can be treated with non-invasive therapy. However, severe arthritis may require a total shoulder replacement.
Schedule your Appointment
Use the form below to request an appointment.
INOV8 Orthopedics Location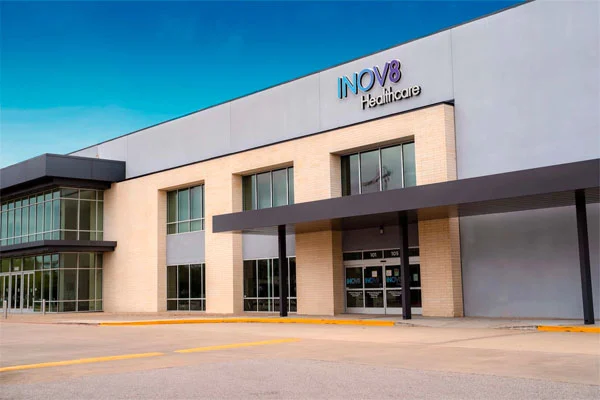 Houston
10496 Katy Fwy Suite 101 Houston, TX 77043
Monday – Friday 8:00am – 5:00pm