Our Philosophy
Advanced Orthopedic Technology
Historically, the treatment of degenerative conditions of the hip and knee joints has been very generic. At INOV8 Orthopedics, we believe in individualizing the treatment algorithm to each individual patient. This means that we combine technologically advanced imaging, surgical pre-planning and sensor-enabled prosthetic placement systems to customize each total joint replacement.
Advanced Technology
A Custom Approach to Care through Advanced Technology
CorinOPS™
We use the Corin OPS™ (Optimized Positioning System) surgical planning system to design and implement your hip replacement procedure. Before your surgery, we take detailed, 3D images of your hip and its natural movements as you engage in normal activity. The Optimized Positioning System then delivers to your surgeon precise information about your unique anatomy that is used in pre-planning the placement of your new replacement hip. Finally, computerized laser guidance is used to align and place your new hip into position.
Intellijoint HIP
Intellijoint HIP® is an advanced optical surgical navigation device used during surgery that delivers real-time, highly accurate measurements of your hip joint, leg length and hip offset enabling your surgeon to precisely position your new hip implant. The use of this leading-edge technology helps prevent instability, leg length inequality, implant loosening and premature wear of the implant.
Bodycad Unicompartmental Knee System
Bodycad's Unicompartmental Knee System is used to design and create a customized knee implant for the individual patient based on a 3D rendering of the patient's own knee. Utilizing this technology results in a knee replacement that is most like the patient's natural knee and achieves the best outcomes and greatest satisfaction with the artificial knee post-surgery. Using a uniquely designed knee implant also preserves bone and soft tissue and allows the patient to achieve a better range of motion that is closest to the patient's original knee anatomy.

THINK Surgical TSolution OneⓇ
With the TSolution One® Total Knee Application, our surgeons use sophisticated, 3D surgical pre-planning software to plan and prepare for your surgery in a virtual environment plus an active surgical robot to assist with the actual knee replacement. The use of this sophisticated technology translates into better patient outcomes and greater patient satisfaction.
OrthoSensor VERASENSE™
Our surgeons use the Orthosensor VERASENSE™ to precisely place your knee implant and balance the soft tissue during surgery. The wireless orthopedic sensor provides our doctors with real-time anatomical data as the knee is manipulated through a full range of motion during replacement surgery (arthroplasty). The surgeon uses this data to make adjustments as he is positioning the new prosthetic knee. Optimal soft tissue balancing and accurate placement of the prosthetic knee are necessary in reaching the best surgical outcomes for the patient and greater satisfaction with the knee implant.
OMNIBotics® for Total Knee Replacement
OMNIBotics is a robotic-assisted system used by surgeons to accurately plan and perform total knee replacement. 3D virtual imaging of your knee and computer guidance allows the surgeon to measure and track the knee anatomy and plan the implant placement to best fit the specific patient. The OMNIBotics system also makes precise ligament and soft tissue balancing possible so that the knee replacement is perfectly balanced.

Kinematic Alignment for Total Knee Replacement
At INOV8 Orthopedics, we use highly advanced technological tools to customize the positioning and alignment of each individual total joint replacement. Known as kinematic alignment, this approach enables us to provide superior patient outcomes because each knee replacement is tailored to the individual patient. In contrast, mechanical alignment uses an "average" of patient data to determine positioning and alignment in knee replacement and those measurements are applied to all patients. We have found that a completely custom approach to joint replacement results in higher patient satisfaction with joint replacement surgery.

Conformis for Total Knee Replacement
iTotal Identity, used in total knee replacements, is a system designed to restore the natural shape of the knee. The iTotal Identity knee system allows surgeons to have a patient-specific surgical plan, instruments, and personalized implant for each patient by using proprietary advanced imaging and design software.

Your surgeon takes into consideration many factors including age, overall health, and lifestyle in determining the best technology to utilize for each total joint replacement surgery.
Gold Standard Infection Control
We are fanatical about infection control standards. At INOV8 Surgical, our state-of-the-art surgery center, we are committed to protocols that substantially exceed the required minimum standards for infection prevention in hospitals and surgery centers. We are successful because we prioritize patient safety, regardless of cost. Some key elements of our infection control standards are:
Sophisticated air filtration system generates 30 air changes per hour
UV light in our heating and cooling system kills almost 100% of harmful pollutants in the air
Surgical gloves are individually tested, not batch tested
Evidence-based protocols for surgery preparation in the operating room
In September 2021, we achieved our 1000th joint replacement milestone at INOV8 Surgical with virtually zero infections.
Schedule your Appointment
INOV8 Orthopedics Location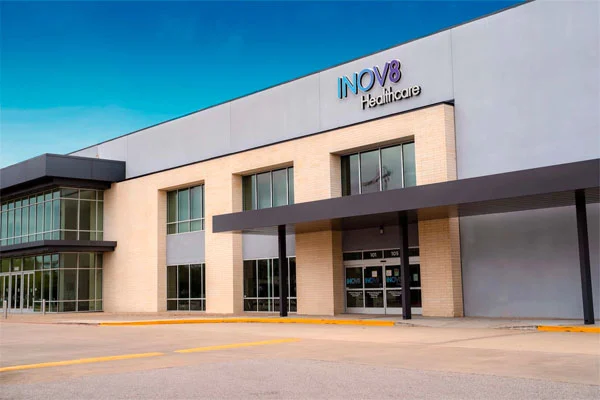 Houston
10496 Katy Fwy Suite 101 Houston, TX 77043
Monday – Friday 8:00am – 5:00pm