Orthopedic Surgery, Sports Medicine, and Physical Therapy in Houston, TX
Innovative Orthopedic
Care

for Exceptional Patient

Outcomes

COVID-19 Update
Effective Monday, September 12, 2022, the patient/visitation policy for INOV8 Orthopedics returned to pre-pandemic guidelines, and masks are now optional. Our office will still supply masks upon request for your comfort and safety.
Welcome to INOV8 Orthopedics
We offer our patients and community the best that orthopedic care has to offer. Our team genuinely cares about providing not only the highest standard of medical care and treatment outcomes, but the best patient experience as well. Our highly skilled surgeons specialize in outpatient total joint replacement and treat a wide variety of musculoskeletal, orthopedic and arthritic conditions. We have a top-notch group of physician assistants who are available to aid in the diagnosis and treatment of conditions and we have our own team of physical therapists to guide you through recovery and rehabilitation.
Keith P.

Aldrich
MD
Board-Certified Orthopedic Surgeon
Dr. Aldrich is a board-certified orthopedic surgeon who sees patients with general orthopedic conditions and specializes in the hand and upper extremities. He diagnoses and treats patients with any orthopedic ailment including arthritis, chronic conditions, and injuries.
Call (346) 571-7500 for Appointment
Stefan Kreuzer
M.D., MSc
Board-Certified Orthopedic Surgeon
Dr. Kreuzer specializes in outpatient total joint replacement and is a leading expert in the pursuit of the most sophisticated advancements in computer-assisted joint replacement surgery.
Call (346) 571-7500 for Appointment
Dharmpal Vansadia
D.O.
Dr. Vansadia is an orthopedic surgeon specializing in total joint replacement, arthroscopy, and sports-related injuries. He has a particular interest in ACL, rotator cuff, cartilage preservation, hip arthroscopy, and least invasive treatments.
Book Online
Our Innovative Orthopedic Procedures

Physical Therapy
While our experts at INOV8 can provide complex orthopedic surgical procedures, we also want to provide complete care. With that in mind. we offer non-surgical treatment of orthopedic conditions and injuries. We can even create individualized post-surgery rehabilitation plans for our patients.
At INOV8 Orthopedics, we have an unwavering dedication to our patients. For us, the word "innovate" is not just part of our namesake, it is a way of life. Our mission is to provide Texas residents with premier orthopedic care through cutting-edge surgical interventions and the latest rehabilitation protocols.
Every part of your experience with INOV8 Orthopedics will be efficient and patient-focused. From your check-in process to the performance of your procedure, our professionals are dedicated to you. We want to improve your quality of life and get you back to the activities you love.
For total joint replacement, we utilize the latest advancements in surgical technology, such as:
Corin OPS
THINK Surgical TSolution OneⓇ Surgical System
OrthoSensor VERASENSE™
Bodycad Unicompartmental Knee System
Intellijoint HIPⓇ
These technologies allow us to perform complex procedures like total joint replacements as outpatient procedures. Having outpatient joint replacement reduces your risk of infection and improves the overall recovery experience. When you need premier orthopedic care, you need INOV8 Orthopedics!
Houston's Top Orthopedic Surgeons




Schedule your Appointment
Use the form below to request an appointment.
INOV8 Orthopedics Location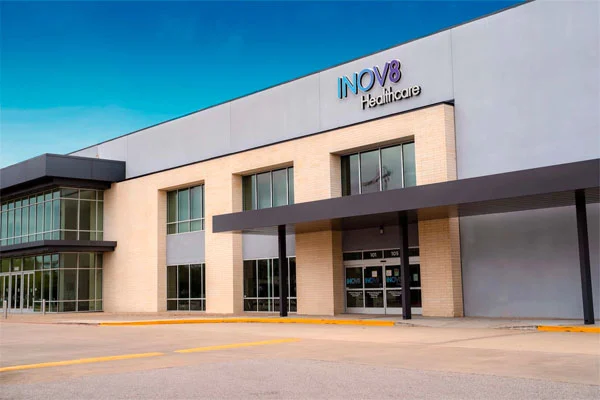 Houston
10496 Katy Fwy Suite 101 Houston, TX 77043
Monday – Friday 8:00am – 5:00pm